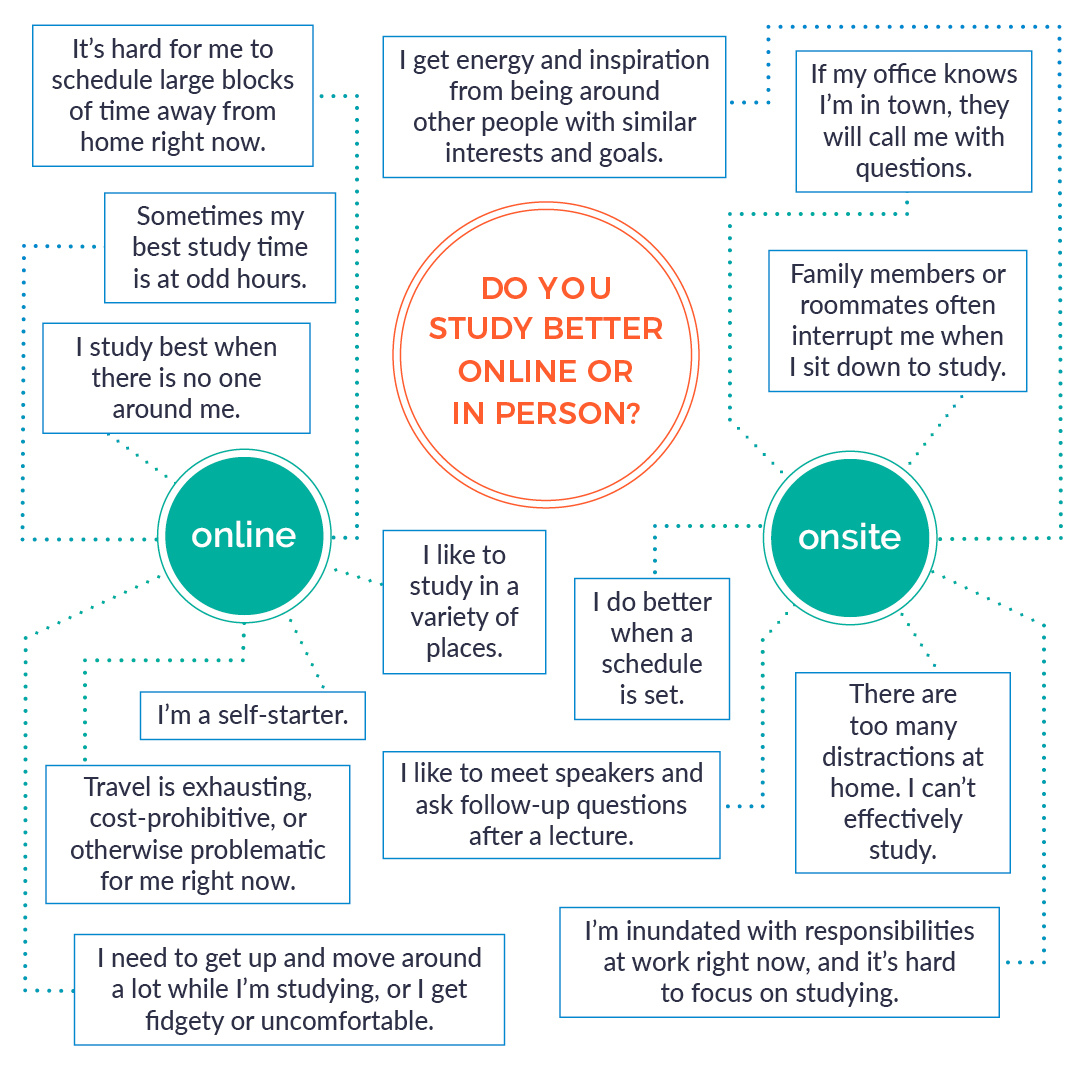 We've crafted distraction-free Internal Medicine Review Courses and a Pediatrics Review Course for practitioners who seek focus. You'll sit in on in-depth presentations from experts on high-value topics for board prep and practice update, and be able to interact with colleagues from across the U.S. to draw from each others' clinical experience.
The course includes supplemental materials:
Self-assessment questions
A full-color printed syllabus
Raw footage from the course
Up to 38 CME credits and MOC points available
There are a few ways doctors Study Strong with our review courses: come to the course in-person (we call it 'onsite'!); live-stream the course remotely from your favorite place to study; or use raw footage from the lectures to study at your own pace for 12 months after the course.
We break down the benefits of each way to study using our courses so that you can choose whatever is right for you. Whichever way you choose, rest assured that you'll get all of the information you need to know for board prep and practice update.
Whichever format you choose, MedStudy courses provide comprehensive, board-focused coverage of internal medicine or pediatrics topics and the opportunity to identify knowledge gaps. And each course comes with a valuable syllabus and access to lecture videos.
How to choose between coming to the course in-person or live streaming the lectures
A recent survey showed physicians prefer their continuing medical education online. Yet some believe that large-group onsite learning promotes a "network effect." Both experiences can benefit the learner. So, which format is right for you? Our checklist will help you decide.
Check off every statement that's true for you:
A B
☐

There are too many distractions at home. I can't effectively study.

☐

It's hard for me to schedule large blocks of time away from home right now.

☐

I like to meet speakers and ask follow-up questions after a lecture.

☐

I study best when there is no one around me.

☐

I get energy and inspiration from being around people with similar interests and goals.

☐

Sometimes my best study time is at odd hours, like early morning or the middle of the night.

☐

I'm inundated with responsibilities at work right now, and it's hard to focus on studying.

☐

I need to get up and move around a lot while I'm studying, or I get fidgety or uncomfortable.

☐

Family members or roommates often interrupt me when I sit down to study.

☐

Travel is exhausting, cost-prohibitive, or otherwise problematic for me right now.

☐ If my office knows I'm in town, they will call me with questions.

☐

I like to study in a variety of places, such as coffee shops and the park.

☐

I do better when a schedule is set.

☐

I'm a self-starter.
A total = ___________________ B total = _________________



Is your A total higher than your B total? Then we recommend you attend a course onsite.

If your B total is greater than your A total, online is likely the best format for you.
Get the Best of Both Worlds
You can get all the benefits of our Internal Medicine Review Course or our Pediatrics Review Course with none of the travel hassles. You'll get the course videos, color printed syllabus, and 100 Q&As for 12 months after the course, so you can continue your studies.
Many of our attendees credit our online review courses with giving them the confidence they needed to pass the boards, and it can do the same for you!